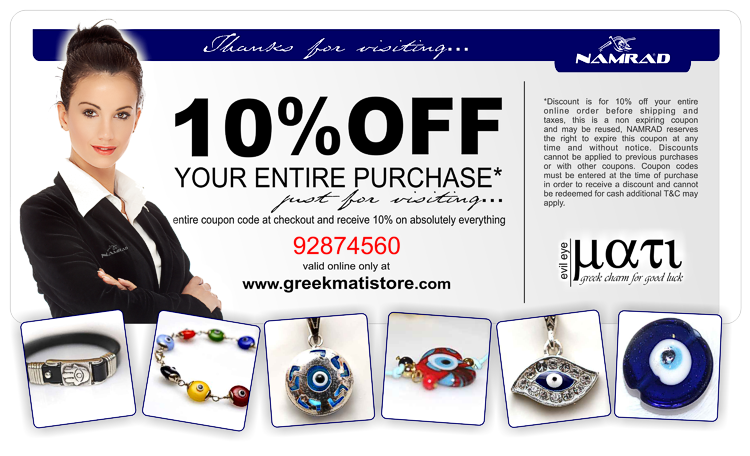 ......
..

Welcome to the GREEKMATISTORE.com



Greek jewellery store for good luck charms and pendants!

The GREEK MATI store is the preferred online whlesale fashion jewellery distributor for the authentic Greek Evil Eye (Mati) (an Amulet, Bracelets or Charms, Ojo Turco, Talismanes, Suerte and Bisuteria - there are many other names for the evil eye & expressions referring to the evil eye) for those seeking luck or protection against the Evil Eye. Our collection of handmade, quality evil eye products, are sourced from around the world in silver, gold and a variety of other materials (high quality glass, diamond or sapphire cubic zirconia stones) making this collection an out of the ordinary arrangement consisting of a full range from charms, earrings, rings and talismans for both male and female including kids of all ages... a great place to shop for jewellery.

Let's answer one of the questions we get ask over and over again by visitors how come to our site for the very first time: does the Mati symbol work? Well we have been inundated by people telling us of the enormous changes in their lives, and we have, in our own family experienced this powerful protection against the evil eye …this has encouraged us to continue creating ,sourcing and distributing these symbols all over the world and helping people like yourself getting protected.

There is probably no culture in the world, which is free from the clutches of superstition and to counter these superstitions, in every culture you will find people taking recourse to charms and talismans. The GREEK Evil Eye Pendants or the "mati" (greek means of "eye") protects against the ills brought on by envious and greedy eyes.



If you are young and healthy, and you are enjoying a happy and prosperous life,it is advisable to wear Evil Eye Bracelet... so it not just for the old and poor!

What is evil eye ?

The Evil Eye charms will protect you from the Evil Eye that is usually elicited by a persons good luck and happy state of life >>> more

IDEAS FOR USING THE EVIL EYE

• Hang a small Evil Eye amulet from the rear view mirror of your car

• Keep an Evil Eye charm or bead in your purse or wallet

• Place an Evil Eye wallhanging on or near your door at home or office. Windows are another great place to hang an evil eye amulet or evil eye wall hanging... the light shines through the translucent evil eye glass.

• Use an Evil Eye lanyard clip on a jacket, purse, gym bag, backpack or any other zipper pull

• Evil eye shoe charms go everywhere you go

• Add an Evil Eye charm to a favorite bracelet or watch

• Add an Evil Eye charm or several different evil eye charms to plain hoop earrings

• A colorful mini Evil Eye charm is great to attach to the closure clasp of a necklace or bracelet

• Send a greeting to friends with a frameable evil eye notecard. Just add your personalized good luck message! Add a frame with the card and they can later frame it for an evil eye picture to hang anywhere

• Glue an Evil Eye Bead onto a candle, attach to your computer monitor or other accessory in your home or on your desk at work. Our larger Evil Eye Amulets make terrific paperweights!

• Place front and center an Evil Eye Glass Bulb on a holiday tree... or give an evil eye glass sphere ornament as a gift.

• Keep several small Evil Eye beads or charms on hand to give to guests or enclose in cards or as package ornaments. They make perfect party favors or event hand-outs.

• Don't forget your cat, dog or other pet... Attach an evil eye charm or bead to their collar!



• FABULOUS PROM JEWELRY




As well as the Evil eye bracelets, you may also wear Evil Eye pendants, Evil Eye rings, and Evil Eye earrings. All pieces of Evil Eye jewelry are equally effective in protecting the wearer from jealousy, maliciousness, hatred, and other curses and evils of the Evil Eye. However, if you are not fond of wearing jewelry, or do not wish to wear the Evil Eye jewelry, you may buy Evil eye car accessories, Evil Eye cell phone charms, Evil Eye stickers and magnets, Evil Eye keychains, or glass Evil Eye dcor.
These Evil Eye items and accessories would take care of you and your family members well being and happiness.

.............................................................................................................................................................................................................................

..........